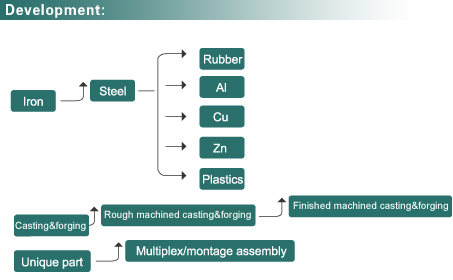 1994-1999, Firstly involved into OEM market in American/Spain/Singapore based on samples and drafts for following products:
Garden furniture(chairs, Lamp post ,statuary,fountain..), Heating castings, hydrant, and un-standard castings for mine in small volume,
Technology involved sand casting in Grey,Ductile,Alloy steel; Lost wax/precision/investment casting in Stainless steel,carbon steel;Modular Forging in carbon steel.
1999-now, Specializing in: Water-disposal system like gratings/manhole cover and street furniture, Agricultural industry,auto-parts industry,watercrafts accessories,castings used for marine......
New market involved: Germany,Denmark,Italy, France, Isreal, Pakistan, both for ODM&OEM market and also for after sales market.
Quantity vary from small batch to big batch like hundreds of thousand parts
Semi-mounted service practiced into business.
We have been gradually expanding into specialized mechanical ODM&OEM
Engineering supplier backed by our knowledgeable service.

We are now be able to supply ODM&OEM mechanical parts/ Assembly parts /after-sales maintenance,and meanwhile market high-quality standard and semi-standard parts.
You may click separate product classifications to view more details.